Featured Cameras
From time to time Gear Shop needs to purge items from it's inventory in order to make room for the latest technology. All of the advertised items are in mint condition and wouldn't be sold otherwise. With low running-clocks on the cameras and immaculate maintenance on all items, Gear Shop is proud to provide the below pre-owned items at competitive resale prices. Each item will be sold with a detailed maintenance record and work-history. You can be proud to own a piece of equipment that has been key in the produciton of some of television's hit-series.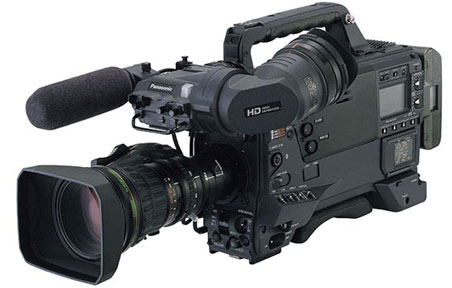 PANASONIC AJ HDX-900
Several Mint Condition Panasonic AJ HDX-900's for Sale!
This full 2/3" DVCPRO HD camcorder records pristine 100Mbps HD images in any of 11 video formats, encompassing 60Hz and 50Hz production. The versatile, cost-effective camera provides higher-quality 4:2:2 intra-frame recording that holds up through layers of special effects, graphic overlays and constant editing and processing. Collaboration and content exchange are essential in sports production, cable shows and reality TV — and nothing maintains the original image integrity and sound quality like DVCPRO HD. With 1080i, 720p, 24p and 25p capabilities, the AJ-HDX900 is perfect for long-form HD programming and an invaluable tool for digital cinematography, cable and television production in any format, sports and events, for globetrotting documentarians and feature crews, and for the rental companies that serve them.
Full-size 2/3" CCD block provides superb low-light performance and compatibility with all manufacturers 2/3" lenses for ENG, EFP and digital cinema production
Multi-format recording system that supports 1080 at 59.94i, 50i, 29.97p, 25p, 23.98p, 23.98pA and 720 at 59.94p, 50p, 29.97p, 25p, 23.98p
14-bit A/D DSP circuits that provide optimum picture quality, color reproduction and luminance gradation
Superior 4:2:2 color sampling and independent frame compression
Records for 33 minutes on a DVCPRO medium-size cassette with 48kHz/16-bit digital audio on all four channels
Three CineGamma™ modes to replicate the look and feel of film
Built-in IEEE 1394 digital output helps lower the cost of HD production by allowing you to directly transfer HD video to nonlinear editing systems or other VTRs
Standard HD SDI output is included for monitoring and line recording
Built-in downconverter produces a SD output, allowing the use of low-cost SDI accessories
Outstanding low-light shooting down to 0.032 lux (at+62 dB gain)
Compatible with a wide range 2/3" quality lenses and accessories
Two 4-position optical filters (ND: clear, 1/4, 1/16, 1/64; CC: Cross, 3200K, 4300k and 6300K)
Electronic shutter (1/100 to 1/2000 sec.) with synchro scan shutter (1/60.3 to 1/249.8 sec.)Teams with Panasonic's new AJ-HD1400 compact DVCPRO HD VTR to form at high-performance, mobile acquisition-through-editing system.
PHONE
CALL US FOR MORE DETAILS
+1 212 564 4007
GoPro HD Hero 2
Lot of 20 GoPro HD Hero 2 Cameras, sold as a set or individually.
Born from a passion to capture your love of sport from your perspective, the HD HERO2 is a feat of engineering. Wearable and gear mountable, waterproof to 197' (60M) and boasting an immersive 170° wide-angle lens, the HD HERO2 has ushered in a new era of image capture. Professional quality 30 fps 1080p and 60 fps 720p video, combined with 11 megapixel still photo capture that has landed magazine covers, HD HERO2 has stoked out more professional and amateur athletes, adventurers and filmmakers than any other camera in the world. GoPro gives you the ability to capture and share life's most passionate experiences. This is your life... GoPro.
PHONE
CALL US FOR MORE DETAILS
+1 212 564 4007